A central part of NFFA-Europe is the provision of free access to users with good ideas to generate new knowledge or innovate making use of nanoscience and nanotechnology.  The required infrastructure is scattered across Europe and not always available to everyone. A set of European nanolabs, co-located with analytical large scale facilities (ALSF, such as synchrotrons and neutron sources), are collectively offering part-time access to their infrastructure under the NFFA scheme.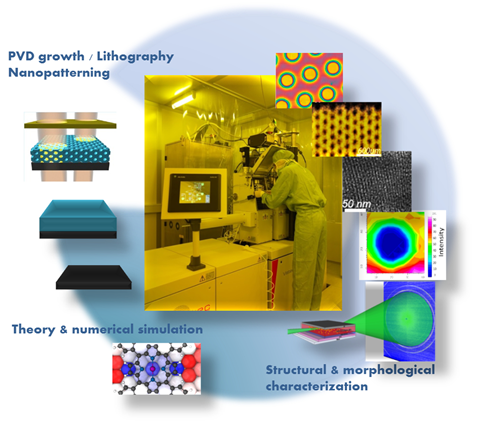 This offer is organized around a web-based catalogue (www.nffa.eu/offer), which currently features the description of up to 80 techniques, both nanolab-based and ALSF-based. Approximately half of those techniques are characterisation techniques (Structural & Morphology, Electronic & Chemical, Magnetic, Optical & Electric). However, an enabling approach to the micro-nanodomain also requires access to some material routes, the capacity of patterning in the nanoscale, constructing devices, and gaining  insight through modelling and simulation. This is why the offer is distributed in four families of processes:
    Lithography and patterning
    Growth and synthesis
    Theory and Simulation
    Characterisation
Efforts have been made to make the catalogue easy to navigate and use, with a single entry point for proposals (www.nffa.eu/new-application). In this way, the catalogue is interactive and while navigating you can construct your project proposal, giving shape to an application form that will be subjected to a technical feasibility check and scientific merit evaluation before being granted access. A supporting user guide has been produced (www.nffa.eu), and, in any case, a few professionals at each node are available for technical queries. In addition to guidance through the submission process, the user guide contains all the administrative, technical and scientific eligibility criteria for academic and industrial proposals (e.g. transnationality, no ALSF-only proposals, no single-technique proposals…).
Access is given to users for free and travel and subsistence support is available as well.
The Technical Liaison network (TLNet) formed by the above mentioned professionals is the body judging the feasibility of the proposals and the one assigning them to the most suitable node. In addition, about a dozen of reputed external scientists have been appointed as members of the Access Review Panel, which is in charge of judging the scientific merit that will clear the financial support to a feasible proposal.
Access is given to users for free and travel and subsistence support is available as well. A Declaration of Acceptance needs to be signed by the user. It states the NFFA-Europe access policy and contains provisions regarding Intellectual Property and Confidentiality issues, Dissemination and Exploitation aspects, Insurance, and proper Access Records.
A calendar of calls has been tentatively established upfront. Access to NFFA can be considered as always open but four cut-off dates per year (Jan 15th, Apr 15th, Jul 15th, Oct 15th) are defined for proposal evaluation.