Just over a year from its official start, NFFA-Europe boasts more than eighty proposals submitted over the first three official calls.
Following the careful feasibility assessment of the TLNet and the through scientific evaluation of the external Access Review Panel, access sessions of the first batch of approved proposals are presently taking place while scheduling for access of the second batch is being organised. After the last call deadline on October 15, a new batch of proposals is now in place for technical assessment and scientific evaluation.
The country distribution of the proponents demonstrates a broad level of information throughout the scientific community and a positive response to the NFFA-Europe offer enlightening a considerable demand from EU and associated countries along with requests from non EU countries. Remarkably, five proposals from SMEs have also been submitted highlighting the capability of NFFA-Europe to reach and attract the industrial community. 
Access request is well spread across the available installation types, bringing together combined acees for nanoscience laboratories and fine analysis, well fitted to the scope of NFFA-Europe.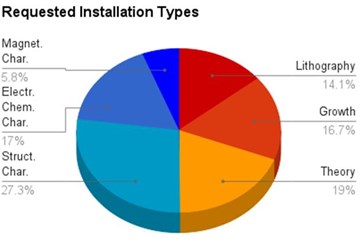 The distribution of the units of access (UoA) across the techniques available in the NFFA-Europe installations highlights what are the combined scientific needs of the proponents in terms of fabrication, simulation tools and characterisation. Optimal use of the various equipment in the NFFA-Europe access nodes is scheduled in detail to meet the user's request and to avoid oversaturation. After the first three calls, the access capacity of the NFFA-Europe infrastructure is well balanced in relation to the user's demand.