Scientific highlights
FROM OUR JOINT RESEARCH
Deep neural networks lead to nanoscience images classification software
A research group leaded by CNR-IOM in Trieste trained a deep neural network to recognize different types of Scanning Electron Microscopy (SEM) images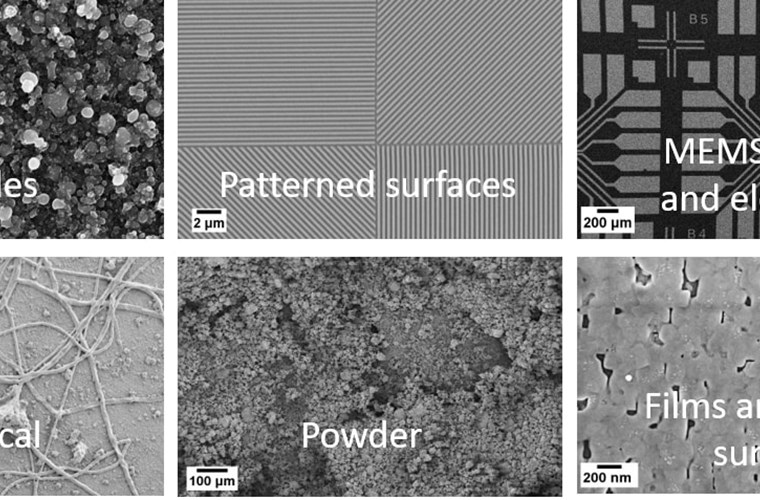 Credits: Regina Ciancio on behalf of CNR-IOM
A research group leaded by CNR-IOM in Trieste trained a deep neural network to recognize different types of Scanning Electron Microscopy (SEM) images
From JRA3 - e-Infrastructure for data and information management
A group of researchers led by Stefano Cozzini has recently published a paper on Scientific Report, describing how they applied modern deep learning techniques to the wide area of nanoscience. In particular, they focused on deep convolutional neural network training to classify Scanning Electron Microscopy (SEM) images at the nanoscale.

The team divided roughly 20,000 SEM images among 10 categories. "This procedure had to be done by humans. It required many efforts, but we are satisfied, because this is by itself a result: we produced the first labelled dataset of SEM images" says Rossella Aversa, the corresponding author of the paper.
The final product is a classification software able to recognize SEM images never seen before, classified into one of the 10 known categories.
"This work, bridging the field of machine learning and nanostructural characterization by SEM, witnesses the first application of a complete semi-automatic workflow to process data outcomes" proudly says Stefano Cozzini.
The work introduces a promising and stimulating field of research that implements deep learning techniques in the nanoscience domain, and paves the way towards new methods and tools to be applied in experimental and computational nanoscience.
---
PUBLICATION DETAILS
October 16th, 2017 - Scientific Reports 7, 13282 (2017)
Neural Network for Nanoscience Scanning Electron Microscope Image Recognition
Mohammad Hadi Modarres a, Rossella Aversa b, Stefano Cozzini b,c, Regina Ciancio d, Angelo Leto e and Giuseppe Piero Brandino c
a Institute for Manufacturing, Department of Engineering, University of Cambridge, Cambridge, CB3 0FS, United Kingdom,b CNR-IOM Istituto di Officina dei Materiali c/o SISSA, via Bonomea 265, 34136, Trieste, Italy c eXact-Lab srl, via Beirut 2, 34151, Trieste, Italy  d  CNR-IOM, TASC Laboratory, Area Science Park, Basovizza S.S. 14 km 163.5, Trieste, 34149, Italy e  Elegans.io Ltd, Bellside House 4th Floor, 4 Elthorne Road, London, N19 4AG, United Kingdom.
Reference: DOI: 10.1038/s41598-017-13565-z
For more information: 
 Dr. 
Stefano Cozzini, 
cozzini@iom.cnr.it
, Dr. Rossella Aversa, aversa@iom.cnr.it, CNR-IOM Istituto di Officina dei Materiali c/o SISSA, via Bonomea 265, 34136, Trieste, Italy 
Other scientific highlights