11 Sep 2023
-
Heraklion, Crete (Greece)
A series of NFFA-Europe webinars at NanoBio 2023
Join us for a series of instructive webinars on cutting-edge topics that will be delivered at the International Conference on Nanotechnologies and Bioscience.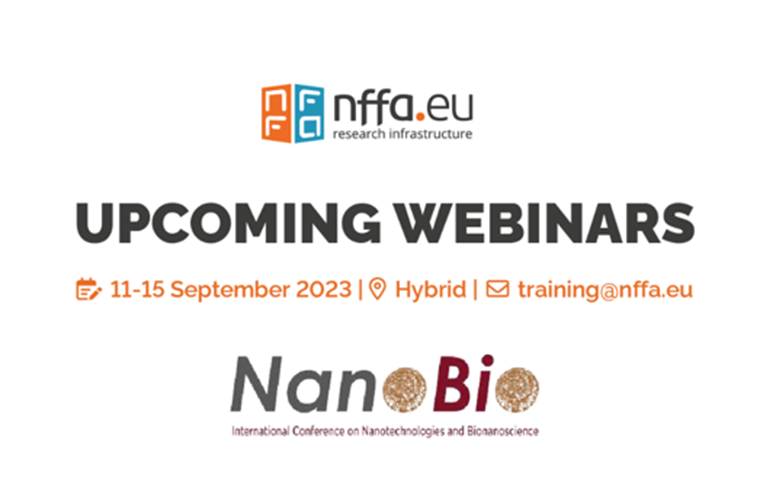 NFFA-Europe is thrilled to announce a captivating series of webinars that will delve into a wide range of topics related to cutting-edge aspects of nanoscience and nanotechnology.
These webinars are being organized as part of NFFA-Europe's e-learning and digital schools on-demand activities.
They will be delivered as plenary lectures, chaired by Emmanuel Stratakis and Emmanuel Kymakis, at the 2nd International Conference on Nanotechnologies and Bionanoscience (NanoBio2023) that will take place from September 11th to 15th in Heraklion, Crete (Greece).
The first webinar is scheduled for Monday, September 11th at 8:30 (CET) and will explore two diverse aspects of nanotechnologies:
- Intelligentsia of Nano-Architected Hierarchical Materials, presented by Julia Greer, California Institute of Technology (Caltech), USA
- Autophagic mechanisms and cellular homeostasis during ageing, presented by Nektarios Tavernarakis, Foundation for Research and Technology-Hellas (FORTH), Greece
The second webinar will be held on Tuesday, September 12th at 8:00 (CET) and will delve into three different topics:
- Nanobiotechnology and Intelligent Materials in a Diverse, Inclusive and Convergent World, presented by Nicholas Peppas, The University of Texas at Austin, USA
- Metallic two dimensional materials for lithium sulphur batteries, presented by Manish Chhowalla, University of Cambridge, UK
- Inelastic molecular collisions & the gas mean free path in air, presented by Sotiris Pratsinis, ETH Zurich, Switzerland
Lastly, the third webinar will take place on Friday, September 15th at 8:00 (CET) and promises to provide fresh insights into the following issues:
- Materials for Eco-Design Strategies for an Innovative Industry, presented by Rodrigo Martins, NOVA University Lisbon, Portugal
- Thin Film Implants for Bioelectronic Medicine, presented by George Malliaras, University of Cambridge, UK
We invite you to register for these exciting webinars by contacting us at the following email address: training@nffa.eu
Event informations
Location
Heraklion, Crete (Greece)
Organizer
Emmanuel Stratakis and Emmanuel Kymakis