C. Popescu1,2, Michaela Vockenhuber3, Dimitrios Kazazis3, Yasin Ekinci3, Wolfgang Theis1, A.P.G. Robinson2
1School of Physics and Astronomy, University of Birmingham, Birmingham, Edgbaston, B15 2TT
2School of Chemical Engineering, University of Birmingham, Birmingham, Edgbaston, B15 2TT
3Laboratory for Micro and Nanotechnology, Paul Scherrer Institute, 5232 Villigen, Switzerland
The last 50 years have seen great progress in the field of microelectronics through continuous improvement of manufacturing techniques to enable the fabrication of smaller and more complex components. However, there is increasing difficulty in maintaining progress due to the resolution limitations of 193 nm wavelength photolithography. Next generation lithography techniques such as extreme ultraviolet lithography (EUV) have been developed to facilitate further miniaturisation, but will required novel chemical approaches for the photoresist that records the pattern. 

Fig.1. SEM images of 16 nm half pitch lines in photoresist (a) and metal loaded photoresist (b)

Our research focuses on developing a resist system that demonstrates high resolution and low line edge roughness, whilst also maintaining high sensitivity. Irresistible Materials Ltd (IM) has developed a negative tone resist (xMT) that shows highresolution capability and works based on the newly developed Multi-Trigger concept. In a Multi-Trigger resist multiple reactions need to take place in close proximity in order for the chemical amplification to happen.
NFFA-Europe offered us the great opportunity to access facilities at Paul Scherrer Institute, Switzerland in order to test the newly developed materials. Using techniques like EUV Interference Lithography and 100 keV Electron Beam Lithography we have been able to analyse and improve the performance of the xMT resist. One strong trend in recent photoresist development is to increase the optical density of the material by incorporating a metal. In this project we have focussed on the effect of metal addition and metal choice on the performance of our resist. The resolution, sensitivity and LER were monitored in that purpose. Figure 1 shows a comparison between dense lines patterned with EUV-IL in the xMT resist and in metal hybrid xMT. The critical dimension in the metal hybrid resist at 49.8 mJ/cm2 is 15.4nm whereas the standard xMT shows a critical dimension of 16.1nm at the same dose. A significant number of metal additives have been trialled and are currently undergoing analysis.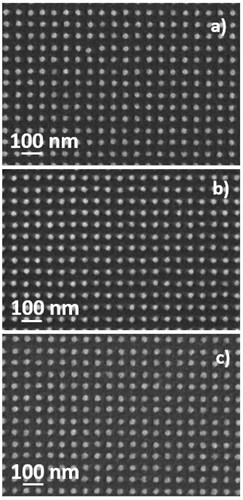 Fig 2: SEM images of 16 nm half pitch isolated pillars in standard resist (a), variant EX2 (b) and variant EX3 (c) 
Furthermore we modified the standard resin molecule in the xMT to produce two variants of the resist (EX2 and EX3), which have higher molecule stiffness, to reduce LER, and higher cross-linking capability in order to increase the sensitivity. Figure 2 shows the comparison between the three materials. The pattern consists of 26nm diameter isolated pillars patterned with 100keV electron beam. At a dose of 406μC/cm2 the pillars patterned in the standard xMT resist have a diameter of 26.75nm, and partial pillar collapse is seen. Variant EX2 gives a diameter of 26.15nm at 221μC/cm2 and variant EX3 gives a diameter of 26.87nm at 303μC/cm2. In both the EX2 and EX3 case no collapsed pillars are seen at this dimension. NFFA-Europe had a vital contribution on our work by providing us with the necessary resources to a successful study of our multi-trigger resist material.